Market Day ~ June 27th, 2007

Summer is officially HERE!!!!
That means the days will be warmer and shorter as the thermometer starts to heat up. On these hot Wednesday nights, there is no better place to be than at the Interstate Farmers Market. Last week was an incredible market and this week is shaping up to be even better.
Keep an eye out for zucchini, tomatoes, fava beans, romaine, green leaf, cherries, wild salmon, raspberries, strawberries, English peas, cucumbers, carrots, hummus, bread, pastry, brownies, blueberries plus much, much more!!!!
IFM goes to the DOGS!!!
Barker Bones makes all natural vegan snacks for dogs. All of the ingredients in every flavor are sourced locally and feature fresh, seasonal fruits and vegetables from local farmers and happily create new flavors to reflect what is ripe.
Barker Bones are human grade quality and always free of wheat, soy, gluten, corn, dairy, preservatives, chemical and filler ingredients. We slow bake our Barker Bones to retain the highest levels of nutrient value from all of the fresh local produce. They are cholesterol and saturated fat free and low in sodium. All of our varieties are popular with dogs with special dietary needs- allergies, diabetes, and dietary restrictions. They are a nutritious supplement to any dog's regular diet and are very popular in the canine community.
This week they will have three varieties to offer: Garden Vegetable (featuring organic carrots, spinach, parsley, and mint), Sweet Potato and Hood River Apple, and Peanut Butter and Strawberry. All of this week's varieties are loaded with vitamins and antioxidants provided by Oregon and Washington's beautiful bounty.
Master Recyclers:
Come on by and learn where to take those pesky yogurt containers!!
Vendors In!!
Simon Sampson (wild salmon)
Nonna's Noodles (fresh Italian pasta)
Pine Mt Ranch (wild meats)
Maybe it's the sun, the fact that I didn't have a recipe last week, or the fact that now so many wonderful ingredients are available at the market that I'm now bursting with ideas. Plus, since everything is starting to come into season now, it makes cooking so much easier and flavorful. Check it out!
Market Day ~ June 20th, 2007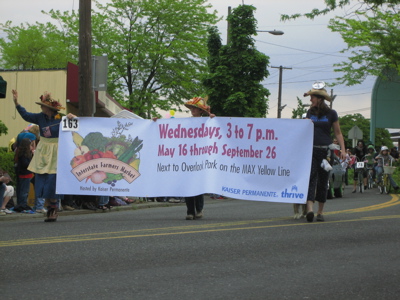 NOW IS THE TIME!!!
Midweek shopping at IFM gets even better this week.  Last week the strawberries shared the center stage with raspberries, blackberries and the first of the Washington cherries.  Now, we welcome in all the late spring and early summer veggies!!  Now is the time to shop IFM!
Deep Roots and Creative Growers (certified organic) start the season bringing lettuce, spring onions, English peas, fava beans, herbs, baby fennel, kohlrabi, peas, zucchini, three kinds of kale and chard, cucumbers, zucchini and much more!
Also for all of you looking to supplement your dinner tables with healthier meat choices, look no further than Pine Mt Ranch and Blue Hole Custom Meats.  Pine Mt from Bend, Oregon will conjure up visions of the Wild West this week by bringing Long Horn Beef and Wild Boar sausage and pepperoni.  Blue Hole Custom Meats hailing from Hood River, Oregon brings Chevon (goat meat) and Pork all incredibly lean, great flavors.  Goat meat is the most popular meats in the world; the United States is one of the last places in the world to catch on.   Both her pork and goat are 100% free range, forest foraged and spring water fed.  Tam sells by quarter Hog and Half goat so you can stock up.  Trust me; after you try this you will be converted.
Blessed with her Italian Grandmother's recipes, Sarah Beth from Nonna's Noodles brings hand made lasagna, fettuccini, and linguini that with one bite will humble you how good they are.  Don't miss it!
Music by Steve Cheeseborough
Delta Blues from right here in Overlook!  3:30 PM – 6:30 PM
Un-Cooking Ideas
I spend most of the week trying to get together some of my best recipes to share with all of you.  This week, after looking at the weather forecast of 78 degrees and partly cloudy, I recommend that you take the night off from cooking and sample some of IFM's cooked to order ready to eat food and make a family picnic.  There's Mike's Flame Grill with a wide selection grilled sausages.  Or give Por Que No? Taqueria's tamales, or tinga and veggie tacos a try. Wash them down with an agua fresca!!
See you at the market!
Market Day ~ June 13th, 2007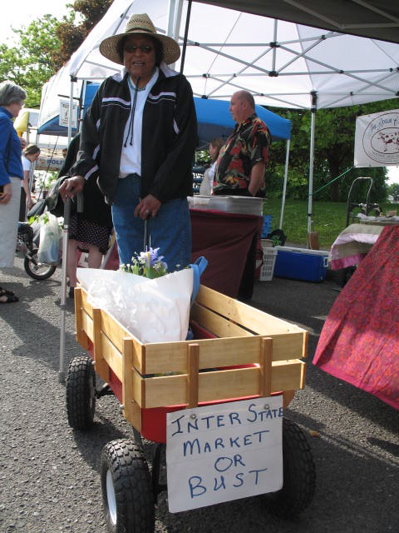 Hopefully, everyone got all the strawberries that they wanted before they sold out last week. This week all the vendors have promised to bring more even more, so make sure you come by and pick up a pint or two. Plus, cherries and blackberries make their first appearance of the season! I'm already dreaming of cherry pie!
Coming back to IFM this week are Pine Mt Ranch, with a wide selection of wild meats, and Jim Dixon's cold pressed olive oil and sea salt. Be sure to stock up as these two vendors are here for a limited engagement.
Don't forget about the cornucopia of asparagus, peas, lettuces, cheeses, smoked and wild salmon, German bread and pastry, five kinds of homemade brownies, grilled hot dogs, tinga tamales and more that you have come to expect at The Interstate Farmer Market!
Vendors In:
Real Good Foods
Pine Mt Ranch
Vendors Out:
Garden Color (Back in a few weeks)
Now that zucchini is around to stay, its time for one of my childhood favorites!
Chocolate Zucchini Cake!  - Get the recipe!
Market Day ~ June 6th, 2007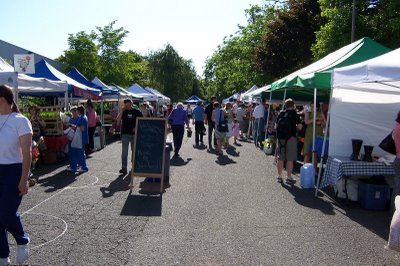 Springtime is traditionally seen as a time of growth, renewal, new life (both plant and animal) being born, and the cycle of life starting once again. It is also more generally perceived as the start of better times ahead. This week at IFM, when we're talking of "better times ahead," we will be doing it with local strawberry stains on our faces as the Hoods make their first grand appearance at IFM. Making our bliss possible will be Unger, Liepold and Happy Harvest Farms.
Vendors In:
• Unger Farm
• Happy Harvest
• Liepold Farm
Vendors Out:
• Pine Mt (back June 13th)
• Vickie's Sun Gold Farm (We'll see them again next spring)
• Packers Cooking (back in one week)

Plus, keep your eye out in the coming weeks at the market when we start hosting graduates of the Master Recycling Program. Each month, they will join us to answer questions, give demonstrations and help us all to be better recyclers. Here is more about the program.
Return of the Berries.
Robert Reynolds says "that when the strawberries show up I always think of this never ending reason not to have cake!" Bravo Robert!
Here is his recipe for "Strawberry Shortcake" as well as a fun video from his new Chef's Studio.
Music by Gales Meadow Farm's own Renee's Rustic Jazz Renaissance.
See you at the Market!
Bring your umbrella, as the weatherman predicts that it may be a little rainy.
2011 IFM Season
May - September
Overlook Park
Wednesdays - 3 pm to 7 pm
De La Salle High School
Saturdays - 9 am - 1:30 pm
SNAP/Oregon Trail ACCEPTED!  (Just come to the info booth and we will swipe your card and give you tokens to spend with the vendors.)
WIC/Seniors Checks ACCEPTED! (Bring your checks directly to vendors displaying a WIC/Seniors sign)
Volunteer
Contact us today and join our dedicated team.
Newsletter
Sign-up to receive weekly reports on what's new at the market, vendor information and recipes.

Past News